So, its been a couple of weeks since I posted last. The previous RV park I was in didn't have good wifi, and I was forced to use my personal hotspot. I saved most all of my data plan for work. Since I've moved on across the country, further west and landed in an RV park that has superb wifi! I thought I'd take the opportunity to provide a catch up, update.
I visited a couple of more places in Tucson before I left, I like that area of the country and I'll probably go back at some point. One of the places I visited was called San Xavier Mission. They call it the white dove of the desert. it is such a beautiful place. Its been around since the late 1700's and is still very much in service today. Walking through the mission I could just feel the energy there – such a powerful place and amazing that its still going after such a long time. I took a few pics, but I think the ones on the website are a little better. 🙂 You can read more about it here:  http://www.sanxaviermission.org/History.html
Another place I checked out before I left was Ironwood Forest National Monument. There was a lot of wildlife but none that I could capture on camera. Its hard to stop the motorcycle, get my phone out and snap a shot of anything, let alone a moving animal! 🙂 I did see a road runner and a coyote within a few minutes of each other and laughed to myself because I immediately thought of Looney Tunes – that coyote STILL can't catch the road runner! hahahaha! I snapped a few shots of the area though as I happened to catch the desert in bloom.
I left Tucson on Easter Sunday. I'm not sure if being in this RV is a good thing for me or not because that day I got a wild hair and said…"hmm, maybe I should go to Oregon." So, around 10a Sunday morning, I started packing my gear, unhooked all my tethers (electric/water etc…) loaded the bike and pickup and off I went!
I stopped off in Las Vegas and had dinner with a good friend of mine, Mike Simone, got all caught up with him and continued down the road. I drove about 2 hours past Vegas and pulled in for the night. The next morning I fueled up and continued on to Oregon.
The trip wasn't without its problems. In fact, at this point I'd be surprised if it was without issues. In California I blew out one tire on the trailer I'm pulling, that caused the trailer to swing wildly back and forth behind the RV. I happened to look back as the tire blew, all of the sudden, blue smoke and the next instant lots and lots of pieces of my tire peppering my fellow motorists. I bet they were happy to share in the experience. I'm sure at least two of them were cause one of them waived (middle finger) and another honked repeatedly.  Those folks in California sure are friendly.
Anyway, I stopped as soon as I could get over in on a section of the road that actually had a shoulder, during the time I was looking for a slowing down and looking for a spot the trailer was still swaying, this caused the car plate (the area of the trailer where the front tires of my truck sit) to get bent so badly out of shape that it almost ripped it off of the trailer. I finally got stopped and reluctantly exited the RV to go assess the damage and found what I've just described. In addition to that, I checked out the other tire and found it was in pretty bad shape too and would likely blow before long. It must have gotten pretty torn up with all the back and forth the trailer was doing. When the tire blew it bent up the fender on the trailer, tore off the tail light and sent the trailers license plate either into outer space or through a vortex into another dimension. I looked up and down the highway risking my life (literally) looking for the plate…I managed to find the mangled piece of tail light, but sadly, no plate.
I called Les Schwab as they were the closest to my location. They sent a truck, and another tire. I had a spare but I wanted that other tire replaced too since I had I all the 'fun' I could stand when the first tire blew. 🙂 The Les Schwab guy was really cool, and got me back on the road in about an hour. The car plate on the trailer was still bent, welds were busted and it was literally held on by a single bolt. Albeit a big bolt, it wasn't much in comparison to the weight I'm pulling. I limped it to the next town going north, Dunnigan California, and pulled into a truck stop there. By the time I got there it was about 7p so I spent the night in the parking lot of the truck stop. The next morning I found an RV park that was only about a mile away so I moved my rig over there , worked most of the day then got in touch with a welder that fixed my trailer up again. 170 dollars later (not bad considering what it could have cost if I lost my stuff) and I was road ready again! The remaining 500 miles were surprisingly and thankfully uneventful.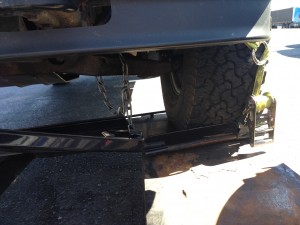 Well, almost. I'm in Bend, Oregon currently. I unloaded my truck and left the bike on the trailer. I went cruising around town to see what has changed since 1998 (a lot has). As I was driving around my water temp gauge started climbing and the truck was heating up, I could smell coolant too. Good news! I will not be bored, more issues abound!!! How fan-freaking-tastic! HAHAHAHA!!! I was close to the RV park so I just limped my truck back there and called a mechanic. He came and looked at it and it turns out the manifold sprung a leak. The truck has about 160k miles on it and after doing some reading I confirmed what he said in that this sort of thing happens with this year of truck between 130k and 160k miles. Well hallelujah!! I hit the top end of that spectrum! 🙂 I also read that the water pump goes around this time too. The mechanic took the truck to his shop, before he left I asked him to replace the water pump and hoses too, maybe I'll get ahead of an issue for a change? Yeah right…I'm not holding my breath.
All of that said (rant included) I am thankful overall. No one was hurt, I didn't lose any of my things and it didn't cost nearly as much as it could have so I am truly fortunate in that respect. Additionally, I've been blessed with some incredible scenery along the way. The fresh mountain air, the crisp fragrant smell of the the pine tress in the high desert of Oregon is really breath taking. Despite the issues I encountered getting here, its all small stuff really and truly water under the bridge. 🙂 I'm in a very Nice RV park, with solid wifi and a quiet serene setting. Not sure how long I'll be here, maybe a couple of weeks, maybe more but I plan to enjoy as much of it as I can…well, once I get my truck back! 🙂